Stuff the Bus Food Drive a Major Success
Release Date: December 09, 2008
STUFF THE BUS FOOD DRIVE A MAJOR SUCCESS
103.7 WNNJ's Rob Moorhead, radio personality of the Moorhead in the Morning show, spearheaded the Stuff the Bus food drive to benefit the County of Sussex, Department of Human Services, Division of Social Service's Food Pantry.  The event was held at the Lafayette Quick Chek, which assisted by providing the parking space and giving out coupons for free coffee.  Rob Moorhead himself broadcasted live beginning 5:30 a.m. on Monday, November 24th, and Tuesday, November 25th.  Sussex County Freeholders Director Wirths, Deputy Director Vetrano, Crabb, Parrott and Zellman attended the event greeting donors, accepting donations and giving out coupons for a free Quick Chek coffee.  Department of Human Services Administrator Stephen Gruchacz and Division of Social Services Director Carol Novrit were also on hand both mornings to assist with the event.
The two day event was open from 5:30 a.m. to 6:00 p.m. for county residents to drop off donations of food or cash to fill a bus provided by Sussex County Skylands Ride (formerly Sussex County Transit).  Over 10,700 pounds of food was donated and over $600.00 in cash was received. 
Because of increased demand on the resources of the Food Pantry, the food that was collected on Monday was already being distributed to Sussex County residents by Tuesday.  The Food Pantry has gone from empty to more than full.  Thanks to the generosity of the people of Sussex County and surrounding communities, it is anticipated that the food donated through the Stuff the Bus event will last until mid-January.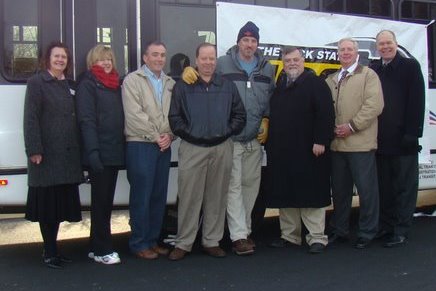 The worsening economy and onset of colder weather has put many Sussex County residents in the position of having to choose whether to pay heating costs or food costs.  Because of the incredible response to Stuff the Bus, many of these individuals and families will not have to make this difficult choice.  However, we will soon be challenged in providing food to the ever increasing number of our neighbors needing to use the Food Pantry to help make ends meet.  Without the Food Pantry assistance many of our neighbors would go hungry. 
If anyone is in need of food for themselves or their family they can stop by the Division of Services, located at 83 Spring Street, Newton, NJ from 8:30 a.m. to 4:30 p.m. Monday through Friday.  Food donations or pet food are accepted during these hours or special arrangements can be made for after hours donations by calling 973-383-3600.