Local officials and residents discussed their vision for transportation and land use in Sussex County during an October 2, 2008 workshop held at Sussex County Technical School in Sparta.
The North Jersey Transportation Planning Authority (NJTPA) conducted the workshop to gain input on Plan 2035, the latest update of the NJTPA's federally required, long-range Regional Transportation Plan for 13 counties in northern and central New Jersey, including Sussex. All transportation projects in Sussex County and the region that receive federal funding must be included in the plan.
Sussex County Freeholder Susan Zellman, who serves as Chairman of the NJTPA Board of Trustees, welcomed those in attendance and urged them to think about their long-term vision for their communities and counties. She stressed that decisions made at the local level have impacts on the entire transportation system.
"We are asking you to take a hard look at your priorities for land use and transportation investment through the year 2035," Zellman told the attendees. "By looking at how we want to steer the future of our county - and the important role transportation plays in that process - we can begin developing our own vision and defining how it fits into the greater NJTPA region."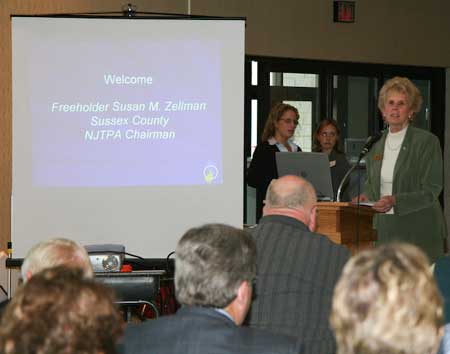 Freeholder Susan Zellman presents at the workshop
About 50 participants - many of them elected officials from towns throughout the county - discussed the county's goals in terms of development, economic growth and transportation. They also expressed their preferences for land use patterns and transportation investment over the next 25 years through an interactive computer exercise and extensive discussion. Many attendees spoke about the constraints the county faces, including its topography and its regulatory restrictions as part of the Highlands area.
The attendees considered the "big picture" facing Sussex County and the region and expressed their thoughts on smart growth, walkable communities, transit-oriented development, bus service, road maintenance and repair, transportation funding and more.
The workshop was one of a series held throughout the region. The NJTPA will consider all the comments gathered in its outreach process in developing the plan, scheduled for finalization in mid-2009.
Interested residents can still tell the NJTPA what they think about the region's future by visiting www.njtpa.org. Click on the Plan 2035 logo to take an online survey on transportation, join an e-mail list, leave comments on the Plan 2035 message board and more. Comments also can be left via voice mail at (800) 641-6079.