It's Farm Market Time!
Release Date: May 29, 2008
It's Farm Market Time!
The danger of frost is past, fruit blossoms have set and seeds have been planted. That means that the opening of our local Farmers' Markets and Farm stands are not far behind. When you buy local fruits and vegetables, you are not only getting wonderful tasting and nutritious food; you are supporting the local agricultural economy. This helps keep our farmers in business and maintains the quality of life to which we are accustomed.
Even if you are a senior on a fixed income, you can enjoy local agricultural products through New Jersey's Senior Farmers' Market Nutrition Program. Vouchers are available to income eligible seniors age 60 and above through the Sussex County Division of Senior Services. Seniors must complete an application and provide proof of eligibility (current tax return, social security statement, valid Medicaid card, valid food stamp verification or bank statement are acceptable proofs). Each eligible senior will receive four $5 vouchers that can be used at participating local farmers markets and farm stands. Contact the Division of Senior Services at 973-579-0555 or seniorservices@sussex.nj.us for additional information.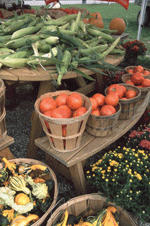 The Olde Lafayette Village Farmers Market will be opening for its sixth season on Sunday, June 22nd, on Route 15 in Lafayette. The hours will be 10:30 a.m. to 3:30 p.m. and will run Sundays through the end of October.

A new Farmers' Market will be opening at Crystal Springs on Route 94 in Hardyston on June 14th. The hours will be from 9:00 am to 2:00 pm and run each Saturday through October.

For a listing of local farm stands, please call the Agritourism hotline at 1-800-473-0363 to receive a free Four Seasons of Agriculture brochure for Sussex County and the Skylands. Or, check the website at www.sussexfarmvisits.com.