Retirement of Eric G. Grove, Sussex County Engineer
Release Date: February 25, 2009
Retirement of Eric G. Grove, Sussex County Engineer
Long-time Sussex County Engineer Eric G. Grove is retiring effective March 1, 2009. Eric began his employment with the County of Sussex in 1976 after becoming a NJ Licensed Professional Engineer in 1974. He became Assistant County Engineer in 1979 under the leadership of Stan Harrold. Upon the retirement of Mr. Harrold, he was appointed to the position of County Engineer in 1982 and has served in the position since.
Eric was born in Carlisle, PA March 1, 1947. He participated in both basketball and baseball during his childhood years. He was married to his wife Beth in 1969 and together they had three daughters - Erine, Andrea and Allyson.
Eric's professional accomplishments in addition to serving as County Engineer include:
Graduate of Drexel University in 1970

Chi Epsilon, National Civil Engineering Honor Society
Tau Beta Pi, National Engineering Honor Society

Sussex County Planning Board, 1982-2009
Lake Hopatcong Regional Planning Board, which later became Lake Hopatcong Commission, 1977-2008 - served as Past Chairman and Treasurer of Regional Planning Board and Past Treasurer of Lake Hopatcong Commission
Sussex County Uniform Construction Code Board of Appeals, 1982-2009 - Member
New Jersey State Association of County Engineers, 1979-2009 - Member, President-1989
New Jersey Society of Professional Engineers, 1987-2009 - Member
National Association of County Engineers, 1982-2009 - Member
New Jersey Municipal Engineer's Society, 1984-2007 - Member
Council on Special Transportation, 1989-2007 - Member
Harmony #8 Masonic Lodge, 1981-Present - Member, Past Master
Grand Masonic Lodge of New Jersey - Past District Deputy
Administrator, Department of Engineering & Planning, County of Sussex
Hopatcong Little League, 1982-1998 - Coach and Board Member
Hopatcong Borough Board Zoning Board of Adjustment, 1976-1982 - Member
During his tenure as Sussex County Engineer, Eric was responsible for 440 bridges throughout Sussex County and a staff of nearly 200 persons at times, including the Divisions of Engineering, Planning, Transit, Roads, Bridges, G.I.S. and Facilities Management.
Eric was recently honored by family, friends and colleagues at a Retirement Dinner held in his honor at the Lafayette House. Freeholder Jeffrey Parrott presented him with a joint Proclamation from the New Jersey Senate and Assembly and a Proclamation from the Sussex County Board of Chosen Freeholders.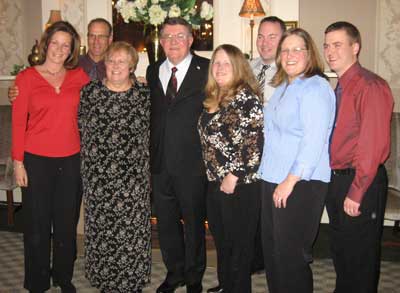 Eric and family members at his retirement dinner
While there are several of us that will certainly miss him since we have worked with him for many years, we cannot help but wish him the best for his future. We would certainly be amiss if we did not encourage him to spend all the time he can find with his beautiful grandchildren ... this of course would be in between rooting for the Yankees, playing golf and sitting in that beach chair.
With a bit of sadness after many years of working together ... here's to the best to Eric for the future!
Submitted by:
Cheryl Delea, Assistant Director
Facilities Management Division