Three Counties Host Opioid Addiction Treatment Seminar
Release Date: October 27, 2016
Three Counties Host Opioid Addiction Treatment Seminar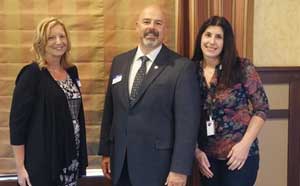 From Left to right: Warren County Substance Abuse Coordinator Deborah Meade, Sussex County Substance Abuse Coordinator Nick Loizzi, Hunterdon County Substance Abuse Coordinator Dawn Paulmeno
On Friday, October 7, 2016, the counties of Hunterdon, Sussex, and Warren Human Service Departments hosted a seminar for human service professionals, social workers, law enforcement, probation/parole officers, school counselors and anyone in the substance abuse prevention and treatment field entitled "Treatment and Recovery Resources for Opioid Addiction". This seminar brought presenters and a panel of experts to discuss how people who are affected by opioid and heroin addiction can be helped to manage their addiction. It took place at Hawk Pointe Country Club in Washington, NJ (Warren County).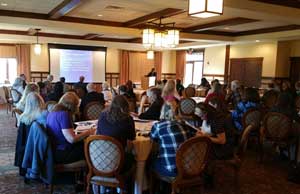 Approximately 70 people attended the seminar. Here they listen to Dr. Baxter discuss medication assisted treatment for individuals suffering Opioid addiction.
The presenters included Dr. Louis E. Baxter, President and CEO of the Professional Assistance Program of New Jersey, Adam Bucon, State Opioid Treatment Authority for the New Jersey Division of Mental Health and Addiction Services, and Michael Santillo, Director of Integrated Care Services at Eva's Village of Paterson, NJ.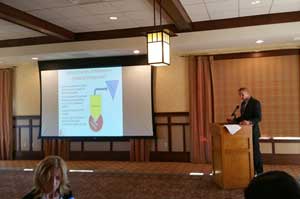 Adam Bucon of the Division of Mental Health and Addiction Services.
Their presentation discussed current myths, opinions and biases regarding the environment of substance abuse treatment. In addition, they outlined the psychopharmacology of opioid dependence and provided a detailed comparison of the three FDA-approved pharmacotherapies for opioid dependence (methadone, buprenorphine and naltrexone). The presentation also discussed the New Jersey Opioid Antidote and Overdose Prevention Act which provides legal protection, both civil and criminal, to most overdose victims as well as the person who seeks medical assistance for the victim of an opioid overdose. The Department of Human Services and its Division of Mental Health and Addiction Services (DMHAS) have made providing tools necessary to reverse an opioid overdose and linking individuals into substance abuse treatment services their utmost priority.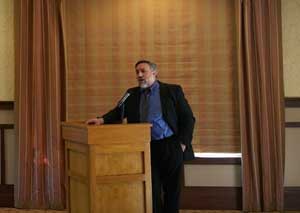 Michael Santillo of Eva's Village
Mr. Santillo's presentation provided an overview of the principles and day to day practice of running an Opioid Overdose Recovery Program (OORP) within the context of a Recovery-Oriented System of Care (ROSC). He discussed the elements of a successfully implemented OORP and its benefits to the individual, family and community and demonstrated how the ROSC facilitates a paradigm shift from traditional treatment providing acute care to recovery providing chronic care.
At the conclusion of the presentations, there was a panel discussion by representatives of treatment providers for each of the three counties. Each panelist was given time to discuss the services and programs their agencies provide and any issues or obstacles they come across while delivering them.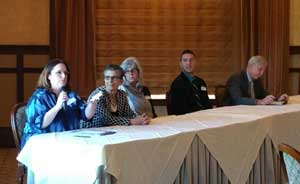 Panel of provider representatives: (From L. to R.): Rachel Wallace, Director of Clinical Services at the Center for Prevention and Counseling of Newton, Jass Pelland, Clinical Director of Hunterdon Drug Awareness Program, Leah Baylor, Office of Dr. John Bernard, Belvidere, Daniel Slinger, Manager of Clinical Services at Capitol Care, Inc., Andover, and Richard McDonnell, Executive Director of Family Guidance Center of Warren County represented providers that discussed the services they provide and difficulties they may have delivering them.
The attendees' response to the seminar was very favorable and many said that the information from all the presenters was helpful to them in understanding the need for additional forms of treatment for people who suffer with opioid addiction and in providing support to them and their families.
---