Sussex County Library System's Family Fitness Challenge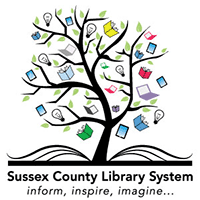 On Your Mark, Get Set. . . Walk!
Newton, NJ - Sussex County Library patrons are invited to participate in the Summer Steps Family Fitness Challenge. Starting July 1, the first 10 families to register at each Sussex County Library location will receive a free pedometer and a log sheet. All families that record their mileage for at least two weeks and return the log by July 30 will be entered into a raffle to win a tote bag full of prizes. There will be six winning families in all, one for each library.
"Summer Steps is another fun way to promote our summer reading program, On Your Mark, Get Set…Read!" said Youth Services Librarian Rachel Burt. "This year's summer reading theme is all about exercising the mind and body. A family hike is a great time to discuss everyone's favorite books!"
The Fitness Challenge is just one of the many activities being offered by the Sussex County Library System this summer. There are weekly story and craft times for children ages 6 months to 6 years, Lunch Bunch programs for kids entering grades 1-3, assorted crafts and life-size games for tweens and teens, and books chats and joy journaling for adults. Details, dates and times for all programs can be found at www.sussexcountylibrary.org.