Juvenile Justice Commission Appoints Barbara Miller to State Council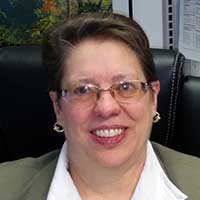 The New Jersey Juvenile Justice Commission and Administrative Office of the Courts have appointed Barbara Miller, Sussex County Youth Services Coordinator, to the New Jersey Council on Juvenile Justice System Improvement (CJJSI). The Council oversees the statewide Juvenile Detention Alternatives Initiative (JDAI) and sets policy at the state level.
Ms. Miller has served Sussex County as the Youth Services Coordinator since September, 2011, and is beginning her third year as co-chair of the New Jersey Association of County Youth Services Commissions. In this capacity, she acts as liaison between the Juvenile Justice Commission and Sussex County. As a member of the State's juvenile justice policy council, Ms. Miller will be representing the children and youth of Sussex County who are either currently involved in or at risk of involvement in the juvenile justice system.
Judge Michael Wright, the Family Court Judge who hears juvenile matters in Sussex County, also sits on the State Council on Juvenile Justice System Improvement. Judge Wright co-chairs the Sussex County JDAI Council, along with Sussex County Administrator Stephen R. Gruchacz. When informed of Ms. Miller's appointment, he responded, "Congratulations to Barbara Miller on her new appointment! Barbara's dedication and expertise in the area of Juvenile Justice will continue to serve our young people well!"
Also commenting on Ms. Miller's appointment to the State Council, Mr. Gruchacz said, "Barbara's appointment to this body is a testament to her dedication to the youth of Sussex County and their families. As our Youth Services Coordinator she has worked tirelessly to partner with agencies throughout Sussex County and the Juvenile Justice Commission to ensure that services are comprehensive and coordinated."
Sussex County started its own JDAI implementation process in 2014, and has been working to implement the core strategies of this initiative for the last eighteen months. While there are several key components to this initiative, at the most basic level, it seeks to make sure that any child or youth accused of committing an offense is sanctioned at the least restrictive appropriate level that does not jeopardize either the safety of the youth or the community. By offering community-based alternatives to detention, JDAI seeks to keep children and youth out of a locked juvenile facility and in the community where they can remain with their families, continue to attend school, and receive necessary services such as counseling and participate in programs such as substance abuse treatment.
In Sussex County, the Detention Alternatives Program offers an array of sanctions to which a youthful offender may be ordered by the court. These include Home Supervision and Home Detention (electronic monitoring/bracelet program) as well as secure detention in the Juvenile Detention Center. In addition, youth who are court-ordered into non-secure detention often receive counseling, participate in groups such as anger management, positive decision-making, life skills and job skills, and/or substance abuse treatment programs as needed. By keeping children and youth who pose no risk to the safety of themselves or others engaged in locally-based programs and services, they are less likely to continue to engage in negative behaviors, less likely to drop out of school, and less likely to need other more costly alternatives.
---