Free Fun Is Always on the List at the Sussex County Libraries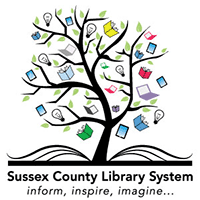 Newton, NJ - With holiday shopping and high heating bills December can be a very expensive month. Take a break from the cost and the cold. Stop by your local Sussex County Branch Library where there is always a lot to see and do, and it's all FREE!
On Thursday, December 3 at 10:00 a.m. the Louise Childs Branch in Hopatcong will host a holiday craft time for preschoolers. Anxious teens facing college entrance exams will have a chance to practice the new SAT/ACT format with a fully-proctored practice test being held at the Sussex-Wantage Branch in Wantage on December 5 from 10:00 a.m.-2:00 p.m. Adults are invited to make cloth wreaths with Myriam at the Franklin Branch on Thursday evening, December 10 at 6:30. Crafty teens are invited to Franklin on the same date and time to learn the beautiful paper art of Quilling.
This is just a sampling of the many programs being held in December. For a complete listing of all the December happenings visit or call your local branch, or go the to the programs link at www.sussexcountylibrary.org.