Sussex County Education Partnership Reaches Out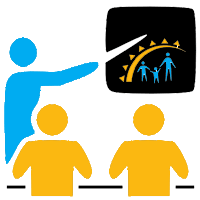 The Sussex County Education Partnership provided in-service training on several topics during the months of October and November to over 150 professionals to help schools, agency staff and first responders to better understand the Children's System of Care.
The Youth Services Coordinator addressed the Sussex County School Counselors Association at their annual Columbus Day in-service to provide them with an overview of free behavioral and mental health services for their students through the New Jersey Department of Children and Families Children's System of Care to help students and their families who are struggling with issues that impact the ability of children and youth to succeed in school.
Family Partners of Morris and Sussex Counties sponsored an in-service for first responders to inform attendees about what the Children's System of Care can do for children and youth with behavioral and mental health struggles. In addition, first responders learned about the Juvenile Detention Alternatives Initiative (JDAI) and how it is being implemented in Sussex County. Attendees also learned how the Children's System of Care plays a role in early intervention in the lives of children before behavioral issues cause them to become involved in the juvenile justice system.
Bergen County Special Services and the Sussex County Education Partnership conducted their annual training event for school counselors and McKinney-Vento liaisons on the basics of both the Children's System of Care and the McKinney-Vento Education of Homeless Youth legislation. The McKinney-Vento law allows homeless youth to choose to either return to the school district that covers the municipality from which they became homeless or to attend school where they are temporarily living while trying to obtain permanent housing.
Barbara Miller, Sussex County Youth Services Coordinator, also made a presentation to the Traumatic Loss Coalition at Sussex County Technical School to school counselors, social workers and other school staff on the impact of school suspension, arrest, detention, solitary confinement and shackling on the psychological well-being of students. In addition, she spoke about JDAI and Sussex County's system of graduated sanctions for court-involved youth, and the connection between the juvenile justice system, the school system and the Children's System of Care in preventing youth from being caught in the school-to-prison pipeline.
The Education Partnership is available to provide education and training in these areas ranging from a 10-15 minute overview to a full two hour in-service for schools, agency staff, parents and community organizations. In addition, the Partnership will assist school staff in creating action plans for their most at-risk students to identify needed and available services to which the school can connect children and families.
To arrange for a presentation or training, call 973-940-5200.
---