SCLS Hosts Caldecott Medal Design Contest for Kids

Newton, NJ - The Sussex County Library System is holding a Caldecott Medal Design Contest and Mock Election to celebrate the best in children's book illustration for 2015.
The contest invites kids in Kindergarten through 6th grade to redesign the Caldecott Medal which remains unchanged since first being awarded in 1938. Contest entry forms and ballots can be picked up at any Branch of the Sussex County Library System. Submitted designs will be posted in the libraries through the end of the year and 1st, 2nd and 3rd place winners will be chosen by judges at a Mock Caldecott Party to be held at the Sussex-Wantage branch in January.
All the titles listed on the Mock Caldecott ballot are available through the Sussex County Library system. Search the catalog online at www.sussexcountylibrary.org or stop by your local branch. Ballot results will be published on the SCLS website in January.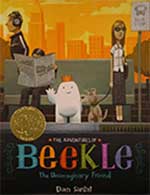 2015 Caldecott Award Winner
(book published 2014)