Skylands Ride Drivers Receive Safety Awards
Release Date: August 18, 2015
Skylands Ride Drivers Receive Safety Awards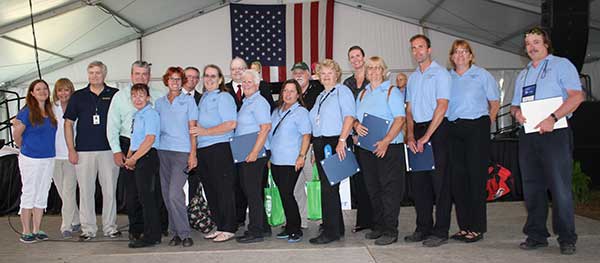 Twenty Skylands Ride drivers received Safety Awards during Senior Day festivities at the New Jersey State Fair, on August 6, 2015. Freeholder Director Phillip Crabb along with Freeholders George Graham, Gail Phoebus and Richard Vohden presented the drivers with a certificate from the County of Sussex. Senator Steven Oroho, Assemblyman Parker Space and Congressman Scott Garrett presented a certificate from the State of New Jersey. Sussex County Department of Human Services Administrator Sarah Balzano, Social Services Director Carol Novrit, Skylands Ride Program Coordinator John Jackson and Skylands Risk Management representatives were also there to congratulate the recipients. Special recognition was given to Omnibus Operator Douglas Maull who represented the State of New Jersey and County of Sussex during the 2015 National Roadeo competition in Tampa, Florida, on the 30
th
and 31
st
of May.
Skylands Ride provides community paratransit and public bus services to many of the County's senior citizens, persons with disabilities, workers, and the general public. The transit system saves tax payer dollars by allowing seniors to live independently, enjoying all of the amenities of living in a rural setting like Sussex County. The service is a lifeline for many residents, providing transportation to essential medical appointments, dialysis, and other life-saving treatments, in addition to providing transportation to work. The Safety Award represents more than just safe driving. Drivers must use defensive driving, customer service skills and avert accidents. Drivers traveled more than 791,000 miles and provided over 111,000 passenger rides to Sussex County residents during 2014.
Drivers who were recognized for the safe performance of their duties in 2014, along with the number of years they have been accident free were: Bert Oudshoorn, 10 years; Jeffrey Staple, 9 years; Carrie Heiney, 7 years; Darlene Sonvico, 7 years; Mary Ann Warner, 7 years; Janice Wiedeman, 7 years; Marie Zangara, 6 years; Deborah Postas, 5 years; Douglas Maull, 4 years; Barbara Fitzmaurice, 3 years; Kevin Gleason, 3 years; Marjorie Healey, 3 years; Kevin Sherlock, 2 years; Helen Baker, 1 year; Sharon Blohm, 1 year; Joseph Contino, 1 year; Kathleen Hayde, 1 year; Thomas Immesberger, 1 year; Luis Ortiz, 1 year; and Ellen VanDunk, 1 year. Drivers were part of a countywide safety program, which has seen excellent results.
The County Administration, Department of Human Services, Division of Social Services and Skylands Ride congratulate this year's recipients and wish them many more miles of safe travel.