Sussex County Day

Every year towns all around the Sussex County area have a special day to celebrate their town, bringing the community together. This year the Sussex County Chamber of Commerce started a new tradition by gathering representatives from all of the towns to have one gigantic celebration, and they named it "Sussex County Day." Vendors from local stores in the county showed off their specialties, while representatives from county services set-up booths with a great deal of information. With the help from volunteers, the setup of booths and the parking detail turned out just as planned.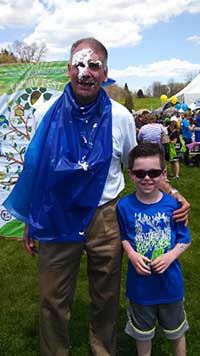 Six officers from the Sussex County Detention Alternatives program, along with three youth in the program, were excited to be volunteers. One of their favorite events, the pie throwing contest, couldn't have gone any better. As County Mayors and Freeholders volunteered their time, residents had a chance to throw a "Pie at a Politician." With the pie- throwers ranging from 3 years old and up, the Mayors and Freeholders were all smiles, some with whipped cream on their faces. There were over 150 whipped cream pies thrown, and they were all aimed at someone's face.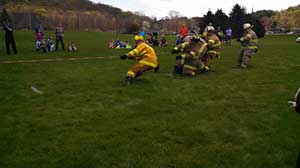 The pie throwing wasn't the only special event. Volunteers from multiple County Fire Departments worked their muscles in a tug of war contest. With $1,000 on the line to the winning Department, towns made up of teams of 5 of their strongest volunteers were determined to pull the rope past the line.
To make the event even more interesting, each member had to pull and participate in their gear. As sweat poured down the volunteer firefighters' faces, each Department gave an outstanding effort. With the staff and youth from the Detention Alternatives program cheering on the Departments, Frankford Township came out victorious at the end of the day.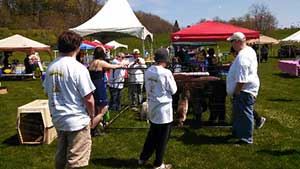 At the petting zoo, children and adults were able to see an Alpaca up close and personal. The Alpacas weren't the only animals at the petting zoo as baby goats were there, as well. As the day went on and the animals became hungry, the Detention Alternatives staff stepped-in and gave the children some feed to give to the animals.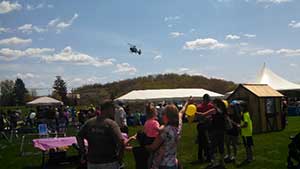 Then an Atlantic Health Air 1 Helicopter landed right on the grass in the back field, children and adults were excited to see the helicopter up close, as well as see where the pilots sit. At the end of the day, it's safe to say that this year's first Sussex County Day certainly won't be the last. The Sussex County Chamber of Commerce was more than thrilled with the outcome of this special event. The Sussex County Detention Alternatives staff and participating youth were recognized as important volunteers who helped make this event special.
---