Sussex County Department of Human Services Holds Annual Volunteer Appreciation Luncheon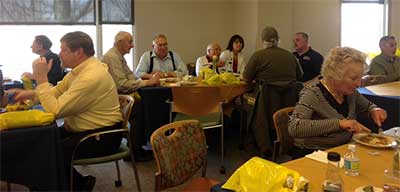 The Sussex County Department of Human Services held their annual "Volunteer Appreciation Luncheon" on Thursday, April 16, 2015, from 12:00 p.m. to 3:00 p.m., at the Romano Conference Center, located at Newton Medical Center. The Volunteers were awarded special recognition for their outstanding service and commitment as active members of Freeholder appointed county advisory boards, committees, groups and as individual volunteers.
At the Volunteer Appreciation Luncheon, the volunteers were given certificates of appreciation and presented with a small gift. The luncheon was well-attended with over fifty-five people present representing the following committees: the Human Services Advisory Council (HSAC), Senior Services Advisory Board, Senior Club Presidents, the Mental Health Board, Veterans Committee, Local Advisory Council on Alcoholism and Drug Abuse (LACADA), Youth Services Commission, Transitional Care Coalition, State Health Insurance Program (SHIP) volunteers, and Project Healthy Living Peer Leaders, among others.
The Sussex County Department of Human Services recognizes their efforts and the importance of having dedicated volunteers serve on various advisory boards and committees. Their time and talents truly makes a profound difference in providing quality services and programs for the community year after year.
---