County of Sussex Conducting 2015 Human Services Needs Assessment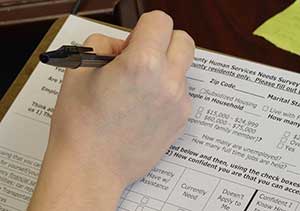 The Sussex County Department of Human Services, in collaboration with the Human Services Advisory Council (HSAC), is conducting the 2015 County-wide Human Services Needs Assessment. The Needs Assessment is completed every three to five years as a means to allow residents to identify the current human services needs of our community, as well as issues in accessing them. The Department needs as many responses as possible from each municipality in Sussex County to ensure that the results give a true picture of the needs of Sussex County residents. The survey is completely anonymous and will be available from Monday, April 6, 2015 through Friday, May 15, 2015. It is short, easy to understand, user-friendly, and can be taken either online or on paper.
The survey can be downloaded from the Sussex County website at: http://www.sussex.nj.us/documents/dhs/2015/needs-assessment-survey.pdf To take the survey online, the web link is as follows: https://www.surveymonkey.com/r/SussexCounty2015

.
Anyone who would like a paper copy(s) of the survey can email Sarah Balzano, Human Services Advisory Council Coordinator, at sbalzano@sussex.nj.us or call (973) 579-0559 ext. 1247.
On April 15, 2015, from 11:00 a.m. to 2:00 p.m., county residents can come to the Family Partners of Morris/Sussex office, located at 67 Spring Street, Newton to fill out a survey as well as grab a bite to eat. Volunteers will be available to assist people in filling out the paper survey, as well as provide laptops for those who would like to fill out the survey electronically.
Please be included in this important process and do your part by taking this survey!
---