SCLS Winter Reading Program Winners
Newton, NJ - The Sussex County Library System's Pop Open A Good Book winter reading incentive for adults was very popular with over 400 adults registering and reading over 2000 books. At the end of the 8-week reading period there was a grand-prize drawing for an ASUS Memo Pad 7 tablet and a $100 Weis Gift Card. In addition one reader from each Branch won a PopLite hot air popcorn popper.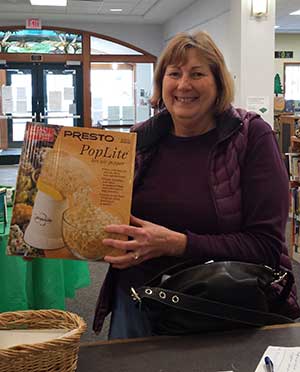 Carolyn Pomeroy happily picks up her popcorn prize at the Sussex-Wantage branch.