Second Project Community Connect Features Healthcare Enrollment
Release Date: December 01, 2014
Second Project Community Connect Features Healthcare Enrollment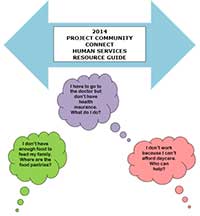 The Sussex County Department of Human Services, in collaboration with community partners, held their second Project Community Connect on November 20, 2014. This successful event, which was held from 3:00 p.m. to 7:00 p.m., at Project Self-Sufficiency, 127 Mill Street, Building 3, Newton, NJ, featured healthcare enrollment for Sussex County families and individuals in need. Certified Assistance Counselors (CAC) were available to meet individually with residents to explain all of their healthcare choices and enroll them in a plan right there on site. Eligible individuals were also able to enroll in Medicare Part D, as well as make changes to existing plans. Applebee's in Newton graciously catered dinner for all attendees at the event. Medical screenings and flu shots were available, as well as detailed information on various human services in the community were available on the topics of housing, healthcare, veteran's services, children's services, senior services, caregiver resources and benefits.
"We are so grateful for the community partnership in this effort. Not only were, approximately, 20 citizens able to enroll in healthcare, but they were able to avail themselves in services that assist individuals and families in facing their current challenges, said Stephen Gruchacz, Administrator for the Department of Human Services.
If families and individuals were not able to attend the recent Project Community Connect event on November 20, 2014, but are still in need of healthcare, there are opportunities to enroll. Applicants who meet established eligibility criteria can go to their local Division of Social Services agency. For Sussex County, this office is located at 83 Spring Street, Newton, NJ. Applicants who do not meet the eligibility criteria will be directed to the Marketplace. Open Enrollment for the 2015 Health Insurance Marketplace began on November 15, 2014 and continues through February 15, 2015. Open Enrollment is the time when applicants can apply for, keep, or change their coverage. Applicants must enroll by December 15, 2014, if they want new coverage that begins on January 1, 2015, or if their plan is changing or they want to change plans and avoid a lapse in coverage.
Health insurance plans offered through the Marketplace are run by private companies. Applicants can compare their options in the Marketplace and see what their premiums, deductibles, and out-of-pocket costs will be before making a decision to enroll. Insurance plans offered through the Marketplace cannot deny coverage because of pre-existing conditions, and they cannot charge women and men different premiums. Some plans include dental coverage. In other cases, free-standing dental plans are available. To obtain detailed information regarding the application and enrollment process or to apply online, visit www.healthcare.gov

or call 1-800-318-2596, 24 hours a day, 7 days a week (TTY: 1-855-889-4325).
For more information or to be involved in planning efforts for next year's Project Community Connect event, please contact Christine Florio, Director, Sussex County Division of Community and Youth Services, at 973-940-5200 ext. 1381 or cflorio@sussex.nj.us.
---