We're Doing It Again!!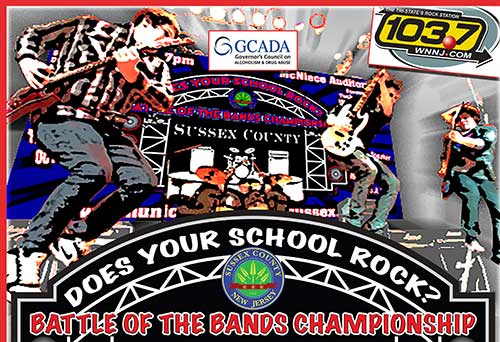 On November 15, 2014, at 7:00 p.m., the Sussex County Department of Human Services, Municipal Alliance will present the Sussex County "Does Your School Rock?-Battle of the Bands Championship." This year the event will be co-sponsored by the Governor's Council on Alcoholism and Drug Abuse (GCADA) and the Tri-Sate's Rock Station, 103.7 WNNJ! It is coordinated by the Sussex County Municipal Alliance and will gather together rock & roll acts from each participating high school for an evening in which ONE CHAMPION will be determined.
We are doing things a little differently this year and inviting ALL PERFORMERS! Each high school is asked to support this event by encouraging those students who may be interested in performing. All performers will be required to sign an Alcohol and Other Drug Free Pledge in order to be eligible to participate. The Sussex County Municipal Alliance will provide each participating school with any materials needed to promote and organize their events with a reimbursement of up to $200 to offset any costs.
In addition to the Championship evening we have planned, arrangements have been made with the Sussex County Technical School video production class to create a documentary detailing the preliminary preparations, interviews with performers, Municipal Alliance representatives, and the finale.
The winning band from last year, No Vertebrae, from Kittatinny Regional High School, has completed recording their CD at Savage Studios in Highland Lakes. Once again, the Grand Prize to the winning act will be a recording session and CDs for distribution.
We are very excited to be presenting this opportunity to each high school in Sussex County and look forward to working with you to make this event a success. Please contact Nick Loizzi, Sussex County Municipal Alliance Coordinator, at (973) 940-5200 ext. 1383 or nloizzi@sussex.nj.us.



---