Project Community Connect to be Held on November 20, 2014
Release Date: October 24, 2014
The Second Sussex County Project Community Connect to be Held on November 20, 2014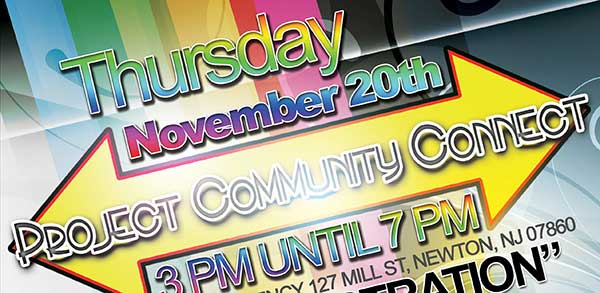 On November 20, 2014, the Sussex County Department of Human Services, in collaboration with many community partners, will hold their second Project Community Connect. This free event will be held from 3:00 p.m. to 7:00 p.m., at Project Self-Sufficiency, 127 Mill Street, Building 3, Newton, NJ. Individuals and families will be able to enroll in health insurance and meet individually with a Certified Assistance Counselor to review their healthcare options and enroll right on site. Interested individuals will also be able to enroll in Medicare Part D and make changes to existing plans.
Information will be provided and knowledgeable staff will be readily available to answer questions and provide assistance on housing, social service benefits, utility assistance, legal services, substance abuse, mental health, medical services, communication, transportation, employment, in addition to other related information. Free flu shots, medical and vision screenings, food bags and personal hygiene items will also be offered. A human services resource guide compiled of, approximately, 50 agencies will be available for each participant for their personal use. The guide will serve as a tool to assist them in accessing needed services in Sussex County. Dinner will be provided for all attendees.
For more information or to be involved in planning efforts for this event, please contact Christine Florio, Director, Sussex County Division of Community and Youth Services, at 973-940-5200 ext. 1381 or cflorio@sussex.nj.us.
---