Sussex County Skylands Ride to Include Advertising on Buses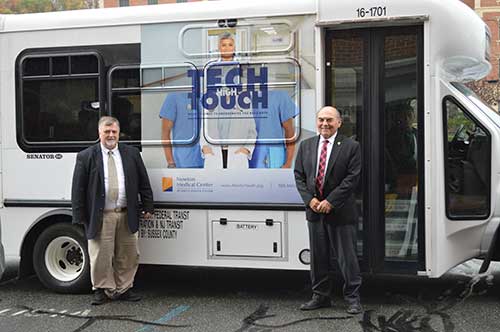 Freeholder Phillip R. Crabb and Freeholder Director Richard A. Vohden inspected the new bus advertising
[Newton, NJ] - Sussex County Skylands Ride, the transportation program provided for Sussex County citizens by the Board of Chosen Freeholders, now provides a marketing opportunity for businesses throughout Sussex County to advertise on their buses. The revenue generated from the advertising program assists in offsetting the cost of the Skylands Ride transportation program.
Gateway Outdoor Advertising, a transit advertising Media Company founded in 1937 and headquartered in Long Valley, New Jersey, was awarded a contract for advertising on Sussex County buses. Gateway has over 30 years of experience in managing advertising contracts for transit agencies in the United States, and they were recently awarded several additional County transit advertising contracts throughout New Jersey.
"We're extremely pleased with the award of the advertising contract with Sussex County Transportation, and will be offering full and partial wrap advertising on the vehicles as well as poster displays on the exterior and interior of the buses. Half of all the advertising income will go directly to the Sussex County Transportation Unit to help pay for the cost of the County's senior and disabled transportation programs. All of us at Gateway Outdoor look forward to maintaining this new partnership for many years to come," owner Craig Heard said.
"This is a great opportunity for Sussex County to partner with businesses and service providers throughout the County to increase their exposure and provide non-tax financial support for the program. Our vehicles travel throughout Sussex County six days a week," said Stephen Gruchacz, Administrator for the Department of Human Services.
Through this engagement, the County has a partner that will coordinate the marketing of the program, work with businesses in the design and coordinate installation of the approved advertisement. The County will share in 50% of the revenue generated. The revenue received will help continue vital transportation services for citizens throughout Sussex County.
For additional information or to discuss how your business might benefit from this unique advertising program, please do not hesitate to contact us at (973) 579-0559 ext. 1227 or via email at humanservices@sussex.nj.us.