Summer Reading Program Adult Winner
Newton, NJ - Congratulations to Gina Shadis, winner of the Samsung Galaxy 4 Tablet in the Sussex County Library System's Adult Reading Program. Gina's name was chosen from over 1600 entries from enthusiastic adult readers who participated in the Literary Elements program this summer. In addition to the Grand Prize winner one lucky entrant at each branch was also chosen to receive a Literary Elements tote bag with a free book and other goodies to promote a love of reading all year long.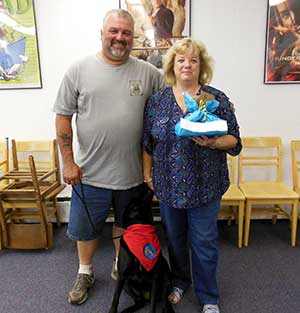 Gina, along with her husband Steve and their therapy dog Willie, receives her prize.
Gina and Willie will be at the Main Library every Thursday through October from 3:45-4:45 for Read-to-a-Dog, a program that allows children ages 5-10 a one-on-one opportunity to improve their self-confidence and skill by reading aloud to a therapy dog. To register for a reading slot call the Main Library at 973 948-3660.