Sussex County Transitional Care Program Attends NACo Annual Conference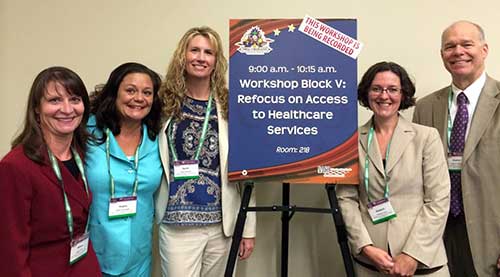 (New Orleans, La.) The Sussex County Department of Human Services, Transitional Care Program was invited to participate in the 79th National Association of Counties (NACo) Annual Conference, which focused on key issues important to counties, such as transportation, resiliency, healthcare, criminal justice and economic development. The conference was held in Orleans Parish (New Orleans), La., July 11 - 14, 2014.
"NACo's annual conference is the largest opportunity for counties to learn from one another, share best practices and set national priorities for the year ahead," said Linda Langston, NACo President. "Counties constantly work to strengthen resilient, safe, healthy, economically competitive communities across the country. This gathering provided countless concrete examples of delivering cost-effective services to residents."
The Sussex County Transitional Care team represented by Stephen Gruchacz, Administrator for the Department of Human Services; Sarah Balzano, RN, Transitional Care Coordinator; Regina Hannapple, SW; Elizabeth Larsen, SW; and Donna Green, SW presented an educational workshop at the conference titled "Refocus on Access to Healthcare Services." The workshop addressed why there is such a great need to refocus on healthcare services. A sampling of those needs include unsustainable increases in healthcare costs, older adults experiencing multiple hospital readmissions, fragmented communication among providers and cuts to funding. By creating a public-private partnership with Newton Medical Center and Premier Health Associates, the county-led Transitional Care program brings services directly to high-risk patients, reduces traffic to the Divisions of Social Services and Senior Services, receives grant funding and generates revenue. "The opportunity to present the Sussex County Transitional Care Program on the national stage and have a dialogue with county leaders from all parts of the country was a terrific educational experience. Clearly, there were no other counties leading such a program, and we have been invited to have follow-up discussions regarding our approach to serving citizens with several other representatives," said Stephen Gruchacz. "Our data provided the foundation for others to look at replicating this simple yet unique concept."
For more information on the Sussex County Department of Human Services, Transitional Care Program, please contact Sarah Balzano, RN, Transitional Care Coordinator, at (973) 579-0559 ext. 1247 or by email at SBalzano@sussex.nj.us.