Skylands Ride Installs Mobile Data Transmitters
Release Date: March 10, 2014
Skylands Ride Installs Mobile Data Transmitters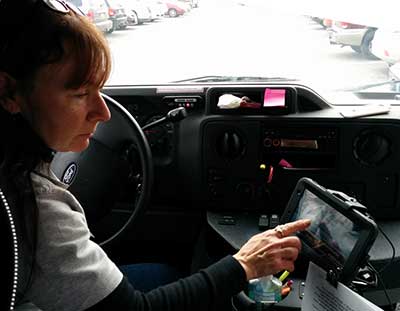 Twenty Skylands Ride vehicles are now equipped with Mobile Data Transmitters (MDT) designed to enhance the service and delivery of transportation. The new devices provide electronic manifests, GPS navigation and real-time location and communications. Real-time location, speed, incidents, vehicle health, and on-time performance are instantly analyzed, transformed into management information and can be sent to Dispatch within seconds. Along with the flexibility of allowing Dispatch to access and update customer manifests and make decisions based upon accurate real-time data, these tablets also create a perfect opportunity to "go green" by eliminating the need for paper manifests. These features result in optimal dispatching and scheduling efficiency. "The installation of this technology, as part of our strategic plan for transportation services, will result in better customer service, efficiency in scheduling, and real-time data that is useful for changes in individual customer schedules and analysis of collected data for planning and performance purposes," said Stephen Gruchacz, Administrator for the Sussex County Department of Human Services.
The MDTs began operating on February 24, 2014, and are supported by Route Match Software. Route Match Software also supports the scheduling system currently utilized by Skylands Ride. After receiving training, the Skylands Ride staff has begun using the new system.
The Sussex County Department of Human Services, Skylands Ride is committed to enhancing transportation options for the community. It is anticipated that the MDTs will streamline the transportation process to benefit agency and passenger alike. If you would like to learn more about Skylands Ride and the current transportation options available, please visit sussex.nj.us/transit or call 973-579-0480.