Sussex County Bridge E-07 (Franklin Viaduct) Grand Re-opening
A grand opening ceremony was held on December 30 for the newly constructed Sussex County bridge E-07, also known as the Franklin Viaduct, which was dedicated to former State Senator Robert E. Littell. The re-opening was attended by County and State officials who participated in the ribbon cutting and featured remarks by State Senator Steve Oroho, Freeholder Director Richard Vohden, Freeholder Deputy Director Phillip Crabb, Ginnie Littell and Assemblywoman Alison Littell McHose.
"It is fitting that we dedicate this bridge to Senator Robert Littell, as like his grandfather and his father before him, he is and will be remembered as a giant of his time" said Freeholder Phillip Crabb.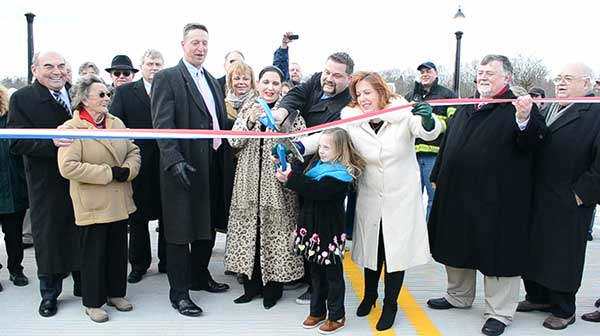 Construction began in October 2012. The old bridge was closed on November 26, 2012, and the new bridge was reopened on schedule in December 2013. This $8.7 million project replaced the existing, structurally deficient bridge and ramp with a new five-span steel girder superstructure with a reinforced concrete deck founded on steel H-pile and spread footing foundations and reinforced concrete abutments and piers. The bridge was widened to accommodate a 30-foot roadway and a six-foot sidewalk.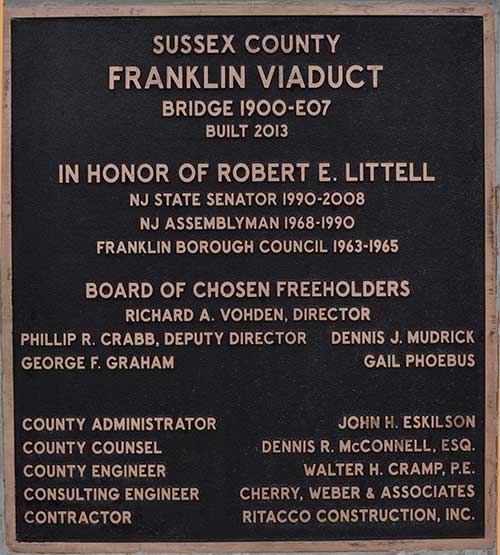 The final phase of the project consists of landscaping, site clean-up and completion of punch list items. This work will be performed under two lane traffic conditions and is scheduled for completion in Spring 2014.
The Sussex County Department of Engineering published regular project updates over the past year documenting the demolition of the old bridge and construction of the new structure. http://www.sussex.nj.us/Cit-e-Access/news/index.cfm?NID=26878&TID=7&jump2=0
Watch a YouTube slide show with historic photos, demolition, construction and grand re-opening photos.
---