Sussex County Municipal Alliance

---
WHAT A NIGHT! WHAT A SHOW!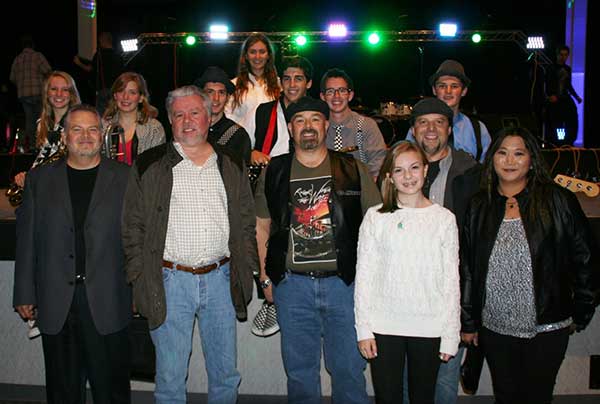 On Saturday, November 2, 2013, the Sussex County Department of Human Services, Municipal Alliance hosted the first "Does Your School Rock? Battle of the Bands Championship" at McNiece Auditorium, Sussex County Technical School, Sparta, NJ. Every high school in Sussex County was invited to participate in a competition of garage bands. There were six schools that sent representative acts: Vernon, High Point, Kittatinny, Lenape Valley, Hopatcong, and Sparta.
If you weren't there, you missed a tremendous evening of performances from all the acts! Each performer represented their high school extremely well, and you could tell the audience enjoyed each and every one of them. It began with an introduction and welcome by Nick Loizzi, the County Municipal Alliance Coordinator and coordinator of the program. He introduced the emcee for the evening, Ashley Craig, the founder and CEO of Students Against Being Bullied.
The first performance was by Connor Blake from Vernon High School, who played several original songs that he wrote. Connor was followed by "No Vertebrae," a Ska (look it up) band from Kittatinny High School. They were a 7 piece group with 4 horn players. "The Grind," a 3 piece group from Hopatcong High School was next. Sparta High School followed with their representative group, The Humm Drums. A musical duo from High Point High School called the Pond Hogs performed some classic rock and then channeled their inner Who when Brad Cirrito flung his guitar onto the stage and then kicked a hole in the bottom of it. The last act for the evening was Glenn J. & Knowledge, a Hip/Hop trio from Lenape Valley High School.
The difficulty of determining who would be selected "champion" fell to a very diverse panel of judges. The 103.7 WNNJ radio deejays, Gary Cee and Borasio were the celebrities on the panel, and they were joined by Rick Savage of Savage Tunes Studio, the provider of the grand prize. Tanya Keys and Kevin Humphris of Quantum Graphics, the designers of the advertising artwork and performers themselves, were also part of the panel. Rounding out the judges and acting as a teen peer to the groups was Jillian Bennett, a student from West Milford.
Congratulations to ALL the acts that came out and played (or rapped) their hearts out trying to win the big prize. However, there can be only one Battle of the Bands Champion, and the CONGRATULATIONS go to "No Vertebrae" from Kittatinny Regional High School for being declared the winner!
Miss Craig of High Point Regional High School deserves high praise for her excellent work. She was poised, confident, and delivered her powerful message with determination and clarity. Sussex County Technical High School teacher Michael Ventresco and his students also deserve praise for their work videotaping the event and interviewing the bands for a documentary that will be shown later this year. We can't wait to see how the DVD comes out!
Thank you to everyone who participated and helped make this event a success! We are already starting to plan next year's event. We anticipate building upon the 2013 "Does Your School Rock? Battle of the Bands Championship" event and making it even better!