Hurricane Sandy and the Sussex County EOC
On Sunday, October 29, at 0800 hours, Sussex County's newly completed Emergency Operations Center (EOC) was opened in advance of the anticipated arrival of Hurricane Sandy.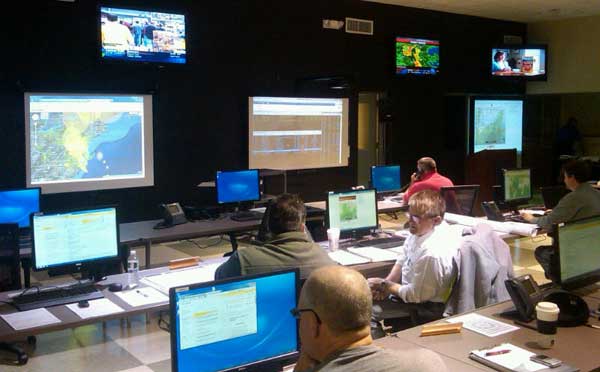 The EOC is actually always open during the day with a core staff consisting of three to four people who conduct preparedness activities and monitor for emergency situations around Sussex County.
The purpose of an EOC is to establish a central location where government at any level can provide interagency coordination and execute decision making to support incident response. The EOC does not command or control the on-scene response. The EOC will primarily interact with other EOCs (municipal, neighboring counties & State) and Incident Command Posts at the local level. Staff within the EOC are involved in receiving, prioritizing, and filling resource requests; collecting situation status information to construct regional situational awareness; providing situation status information to local Joint Information Centers (JICs); and coordinating with local elected and appointed officials on policy and strategic issues.
The EOC is equipped with computers and telephones with desk spaces labeled for use by different disciplines in County government. The Sussex County Sheriff maintains an office there and there is a dedicated workstation for the Sussex County Public Information Officer (PIO).
For the week following the storm, the EOC was staffed around the clock by personnel from the Sussex County Sheriff's Department, the Department of Environmental and Public health Services, the Department of Engineering and Planning, the Department of Human Services, the Department of Central and Shared Services, liaisons from Jersey Central Power & Light, Red Cross and other community professionals involved in preparedness, monitoring, response and recovery from Hurricane Sandy.
Public outreach is especially important during a severe weather event and during the first week following the storm the County was able to publish over ninety updates to the County website and the social media networks: Facebook and Twitter.
The core staff at the EOC had been planning an exercise to prepare everyone in the proper use of the new facility, but with the arrival of Sandy, the exercise became a live event. In the coming weeks as power is restored around the County and the storm response begins to wind down, EOC staff will conduct "After Action" reports to review what went well and what opportunities for improvement were found.