Fredon Township School DARE Graduation
Fredon Township School recently held a graduation for the 49 students who completed the 10 week Drug Abuse Resistance Education (D.A.R.E.) program taught by Sussex County Sheriff's Officer Ed Galinski and Sheriff's Corporal Dan Storey.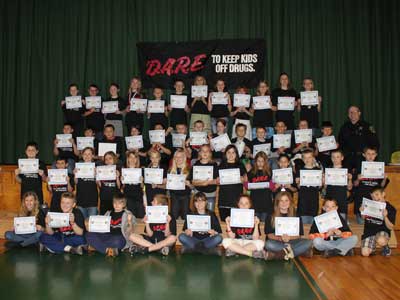 Sheriff's Officer Edmund Galinski, D.A.R.E. Instructor and his graduating class of students from the Fredon Twp. Elementary School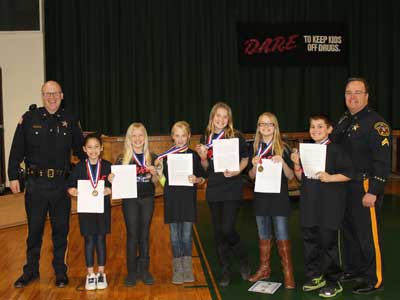 Sheriff's Officer Galinski, Sheriff's Corporal Dan Storey and the winners of the D.A.R.E. Essay contest
Founded in Los Angeles, California in 1983, D.A.R.E. is a Police or Sheriff's officer-led series of classroom lessons that teaches schoolchildren in ages ranging from kindergarten through 12th grade how to resist peer pressure and live productive, drug, and violence-free lives.
The D.A.R.E. curriculum is designed to be taught by Sheriff's Officers whose training and experience give them the background needed to answer the sophisticated questions often posed by young students about drugs and crime. Prior to entering the D.A.R.E. program, officers must undergo 80 hours of specialized training in areas such as child development, classroom management, teaching techniques, and communication skills. 40 hours of additional training are provided to D.A.R.E. instructors to prepare them to teach the high school curriculum.
Each year, The Sussex County Sheriff's Office sends D.A.R.E. trained Sheriff's Officers to eight participating schools within the county to teach the program. This year alone 643 students throughout the county and have graduated the Sheriff's Office D.A.R.E. program.
According to the D.A.R.E. America website, D.A.R.E. has proven so successful that it is now being implemented in 75 percent of our nation's school districts and in more than 43 countries around the world.