Sussex County Municipal Alliance Kicks off "Parents Who Host Lose the Most" Campaign
Release Date: December 07, 2011
Sussex County Municipal Alliance Kicks off "Parents Who Host Lose the Most" Campaign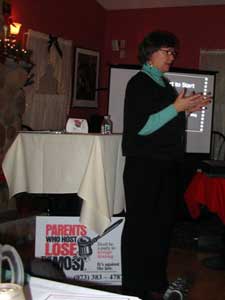 Pat Kibilidis, Sussex County Municipal Alliance Coordinator, addresses the group.
A kick-off to raise awareness of the consequences of parents hosting underage drinking parties took place on Tuesday, November 29, 2011, from 6:00 p.m. to 8:00 p.m., at the Lamp Post Inn, County Road 565, Vernon, NJ. This campaign, entitled "Parents Who Host Lose the Most," was funded in part by the Governor's Council on Alcoholism and Drug Abuse and coordinated by the Sussex County Municipal Alliance and the Center for Prevention and Counseling. The campaign is a grass-roots effort to engage parents, municipal officials, police officers and school personnel to distribute the message county-wide regarding the dangers of providing alcohol to minors.
Speakers included Becky Carlson of the Center for Prevention and Counseling, Hopatcong Chief of Police John Swanson, George Morville of the Morville Agency, local high school youth, and Jonathan McMeen, a Municipal Prosecutor for Sparta, Ogdensburg and Newton. Key points throughout the program included the legal consequences of parents who either allow and/or engage in underage drinking parties, which include criminal charges, jail time and a criminal record. The financial consequences of parents who allow this type of party include possible loss of homeowners insurance and fines. Another key topic was the pivotal role of parents in this campaign, including the commitment to not serve any alcohol to minors and to have continual conversations with their own children about the dangers of underage drinking.
Attendees of this kick-off received various materials with the campaign slogan "Parents Who Host Lose the Most" on lawn signs, table tent cards for restaurants & businesses, banners and window clings with the purpose of displaying these materials throughout Sussex County for the second half of December. The goal is to raise awareness of underage drinking and to provide a uniform, consistent message within the county.
The Sussex County Municipal Alliance is committed to this initiative and will be continuing this important campaign in 2012 in various regions of the county. For more information, please contact Patricia Kibildis, Sussex County Municipal Alliance Coordinator, at (973) 948-6000 ext. 223 or pkibildis@sussex.nj.us