2009 Sussex County Historic Markers
Historic Markers will be placed this year in Byram Township and Wantage Township through the continuation of the joint efforts of the Sussex County Board of Chosen Freeholders and the Historic Marker Committee. This will bring the total number of Historic Markers placed to-date to thirty-two (32) since the year 2000. This invaluable program of preserving the history of Sussex County for future generations is of great interest to the many historical societies and history buffs throughout our county and state. It also serves as an intricate part played in the research of many interesting "stories" that have been passed down through many generations of families that have lived in Sussex County for the past couple hundred years.
The members of the Marker Committee are pleased to announce that the 2009 markers will be placed at the sites of the historic "Cat Swamp Hijacking and Murder" on Route 206 South in Byram and the birthplace of "Goldsmith Maid" on the Harriet Kuperus Farm at 51 Unionville Road, County Rt. 651 in Wantage.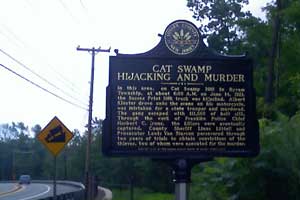 The Cat Swamp Hijacking and Murder was a notorious crime in Sussex County at the time. The marker will read "In this area, on Cat Swamp Hill in Byram Township, at about 6:00 a.m. on June 14, 1921. On this date, the Sussex Print Silk truck was hijacked. Albert Koster drove onto the scene on his motorcycle, was mistaken for a state trooper and murdered. The gang escaped with $11,000 of bolt silk. Through the work of Franklin Police Chief Herbert C. Irons, the killers were eventually captured. County Sheriff Linus Littell and Prosecutor Lewis Van Blarcom persevered through two years of trials to obtain convictions of the thieves, two of whom were executed for the murder." This marker is located on Route 206 South in Byram Township.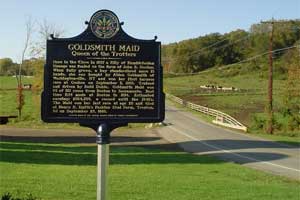 The Goldsmith Maid, Queen of the Trotters marker will commemorate the birthplace and accomplishments of this outstanding trotter whose name was known over one-hundred (100) years ago everywhere in the country and world-wide. The marker will read "Here in the Clove in 1857 a filly of Hambletonian lineage was foaled on the farm of John B. Decker. When fully grown, a bay standardbred mare at 15 hands, she was bought by Alden Goldsmith of Washingtonville, NY and won her first harness race at Goshen on September 7, 1865. Trained and driven by Budd Doble, Goldsmith Maid won 95 of 121 races from Boston to Sacramento. Best 2:14 made at Boston in 1874. Estimated earning $364,200, a record until the 1940's. The Maid won her last race at age 20 and died at Henry N. Smith's Fashion Stud Farm, Trenton, NJ on September 23, 1885." This marker is located at the Kuperus Meadows Farm, 51 Unionville Road in Wantage Township.
Both markers are in place and have been dedicated by ceremonies celebrating each placement.
Submitted by: Cheryl (Delea) Thom