The third annual Sussex County Birding and Nature Festival will be held June 7th and 8th. This Festival is a partnership between the County of Sussex, the New Jersey Audubon Society and our host, Mountain Creek Resort. The Festival will include two full days of field trips throughout the County and a keynote presentation. Our stars will be the birds, butterflies, dragonflies and scenic vistas of the Sussex County Skylands! All field trips will start from Mountain Creek Resort located on State Highway 94 in Vernon Township. Many environmental related displays and vendors will be hosted in the meeting rooms at Mountain Creek. The keynote presentation, Dragonflies of New Jersey, will be by Alan Barlow, at Saturday lunchtime. Registration for the half day field trips and keynote presentation can be done through www.njaudubon.org. Whether you are a new nature watcher or someone who lives to explore the outdoors, this Festival is for you!
Registration Brochure with Schedule and Lodging Information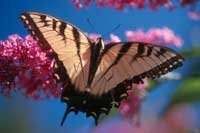 Did you know that Sussex County has more species of dragonflies than any other county in North America? Take one of our dragonfly trips and enjoy many of these dragons and damsels that don't bite! Last year, over 100 species of birds were seen during the two day event. And the butterflies should be very active this first full week in June! Trips run throughout the day starting early and going to approximately 5:00 pm. And, if you are just passing through, stop by and take a Gondola ride to the top of the Mountain for a short walk in the woods with our guides.